Internet of Things
Process of Everything
BPM Everywhere
Coming soon

....
BPM Everywhere will be launched in conjunction with bpmNEXT, Defining the Next Generation of Process Innovation on March 30-April 1, 2015 at the Canary Hotel Santa Barbara, California.
Background
In less than 5 years, the majority of customer interactions will no longer be person-to-person or even mobile-to-mobile, but through engagement via intelligent agents, and increasingly between the agents themselves.
Analytics will drive an ever-growing number of decisions, not as historic reports but rather through real-time support on mobile and wearable devices. Robots once hidden among warehouses and on the factory floor will become the fastest growing sector of the workforce, participating in a vast array of knowledge worker processes.
---
Get your FREE advance chapter...
(you will be notified immediately when it becomes available - in about 14 days):
---
These advances are part of the data-driven transformation now well underway, resulting in a volume of data that is nearly incomprehensible.
Consider all data produced from the beginning of history to the year 2002 – that entire volume is now produced every 10 minutes. Yet within 5 years, the same volume will take less than a second. "Big Data" has never been so large, nor presented such a critical role to the business and the processes which drive it.
What do these changes mean for Business Process Management (BPM)? In the era of the Internet of Things where smart homes, cameras, appliances, cars, apparel, robots, drones, human communication tools (mobile, desktop) and more with every imaginable device connected, BPM must be everywhere.
With estimates of 30 billion or more connected devices, there will be far too many devices and interactions will be far too complex to keep pace with traditional software techniques.
The only way to make sense of the flow of information is to visualize them as part of processes that exchange and process the information byproduct forming something we call BPM Everywhere.
Launched jointly by the Workflow Management Coalition (WfMC) and Future Strategies, Inc., "BPM Everywhere" will be the most important BPM book of 2015, addressing the reality of digital business and what the impact of the Internet of Things is presenting for business processes and architectures, not in some distant scenario but today!
The book will discuss critical issues currently facing BPM adopters and practitioners, such as the key roles played by process mining uncovering engagement patterns and the need for process management platforms to coordinate interaction and control of smart devices.
Topics of interest include:
Top Business Use Cases Enabled by the Internet of Things and BPM Everywhere
How are BPM Lifecycles Affected By and Always Connected World?
Leveraging Process Mining to Discover Emergent Processes
Intelligent and Distributed Software Agents Working in Processes
Social Technology and Social Media Used in Business Processes
What New Standards Must Defined (and Which Most Risk Obsolescence)?
Leveraging Process Intelligence for Real-Time Process Improvement
New Business Organization Models Enabled by Process Technology and BPM Everywhere
The Most Important Trends to Watch in the Process Space
And more… think about BPM in the space of IoT, IoE, IoP, agents, mobile, BPAAS, social, enterprise, robots, SMAC etc, but going beyond traditional BPM
Remember to reserve your free advance chapter. Will be sent to you in about two weeks.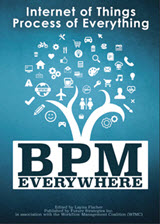 Reserve your Free Advance Chapter
What does that BPM acronym mean?




Simply type in any term and get the quick answer

Only $9.97 each
(retail $25.00).

Download immediately!
This new eBook series presents the collection of best and most important chapters on their respective topics recently published in the annual BPM and Workflow Handbook series and other publications.
Introduction to BPM and Workflow
Financial
Healthcare
Utilities and Telecommunications