Edición en español
BPMN Guía de Referencia y Modelado
Comprendiendo y Utilizando BPMN

Autores: Stephen A. White, PhD; Derek Miers

Comprar: US $49.95 edición digital en español
Ejemplo de capítulos: Tabla de contenido, capítulos 1 y 2 en su totalidad. 27 páginas (2 MB PDF)
____________________________________________________
New! FREE BPMN HandsOn Modeling Printable Templates (English only) when you buy the Digital Edition. Template Value $199.
View What's in the Templates.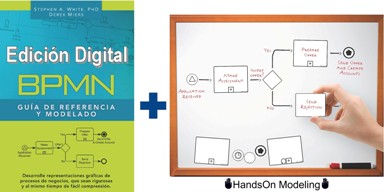 ____________________________________________________
Edición impresa español... ya está disponible en Amazon.com

NOTE TO LIBRARIES, BOOKSELLERS AND RESELLERS:
To order Edición impresa español, please contact the publisher at books @ FutStrat.com for a quote on reseller price and delivery.
____________________________________________________
Product Details
Perfect Paperback: 226 pages
Publisher: Future Strategies Inc., Lighthouse Pt, FL
Language: Spanish, Español
ISBN-13: 978-0-9819870-3-3
Desarrolle representaciones gráficas de procesos de negocios, que sean rigurosas pero al mismo tiempo de fácil comprensión.
Prologo:
Dr. Richard Mark Soley, Object Management Group, USA
Dr. Angel Luis Diaz, Websphere Business Process Management
IBM Software Group USA
Epilogo:
Dr. Michael zur Muehlen, Stevens Institute of Technology, USA
Acerca de esta traducción
Publicado por Future Strategies Inc.: el best-seller Guía de Referencia y Modelado BPMN, en breve estará disponible en una edición digital en español para su descarga inmediata. En respuesta a las solicitudes de la comunidad de habla hispana BPMN de rápido crecimiento, el libro fue amablemente traducido por Dr. Ing.. Juan J. Moreno y su equipo en INTEGRADOC y la Universidad Católica del Uruguay.
Dado que BPMN es una notación estándar, incorpora un gran número de términos utilizados en la descripción del proceso de modelado que son de gran importancia. El equipo de traducción establece como principal objetivo que el libro debe ser tan comprensible como sea posible para el lector de hispanos sin cambiar su estructura o el contenido. Una tabla al final del libro contiene referencias y asignación de los términos iniciales en inglés.
El segundo objetivo de la traducción más fue impulsado, es decir, tener el libro comprensible en el mayor número de regiones de habla hispana. Hay innumerables términos en inglés que no tienen una traducción al español y en diferentes regiones se utilizan en forma divergente. Estos términos quedaron en inglés, con una breve explicación de su significado en el texto.
Todas las organizaciones se encuentran en un recorrido—un viaje sin fin donde la atención se centra en mejorar la manera en que las cosas se hacen (como quiera que sea medido) para el beneficio de los accionistas, las partes interesadas y/o ganancias. Este concepto se encuentra en el corazón de las Gestión de Procesos de Negocio (BPM); una manera de pensar, una filosofía de gestión centrada en mejorar los procesos operacionales de la organización.
Cuanto más tiempo una organización haya estado recorriendo este camino, más maduros son sus procesos, más repetibles y escalables son sus operaciones y es mejor su desempeño en general. De hecho, la literatura acerca de la gestión está llena de ejemplos de Empresas que han estado en este recorrido desde hace un tiempo—Dell, General Electric, Toyota, Nokia, Cisco, Federal Express son algunos de los ejemplos.
Donde sea que se mire, es fácil encontrar cualquier número de artículos o libros que recomiendan a las empresas a incurrir en la innovación operacional (con el objetivo de batir a la competencia). Todos estos ejemplos tienen algo en común—un remarcado énfasis en la comprensión de los procesos de negocio de la empresa para poder mejorarlos. Se podría argumentar que este es un principio fundamental de la disciplina de la gestión.
En todo el mundo, prácticamente en todas las empresas y organizaciones, las personas están luchando para comunicarse entre ellas para ver cómo organizar el trabajo de la mejor manera. Se están cuestionando cosas como:
¿Cuáles pasos son realmente necesarios?
¿Quién debería realizarlos?
¿Deben quedarse en la empresa o en el subcontratado?
¿Cómo deben ser realizados?
¿Qué funcionalidades se necesitan?
¿Qué resultados se esperan y como serán monitoreados?
Mientras que las respuestas a estas preguntas son siempre para una situación en particular, sin el sustento de una descripción comúnmente aceptada del proceso de negocio en cuestión, esas respuestas son a menudo imprecisas y confusas.
Modelado de Procesos en BPMN
En BPMN, los "Procesos de Negocio" involucran la captura de una secuencia ordenada de las actividades e información de apoyo. Modelar un Proceso de Negocio implica representar cómo una empresa realiza sus objetivos centrales; los objetivos por si mismos son importantes, pero por el momento no son capturados por la notación. Con BPMN, sólo los procesos son modelados.
En el modelado de BPMN, se pueden percibir distintos niveles de modelado de procesos:
Mapas de Procesos—Simples diagramas de flujo de las actividades; un diagrama de flujo sin más detalle que el nombre de las actividades y tal vez la condiciones de decisión más generales.
Descripción de Procesos—Proporcionan información más extensa acerca del proceso, como las personas involucradas en llevarlo a cabo (roles), los datos, información, etc.
Modelos de Proceso—Diagramas de flujo detallados, con suficiente información como para poder analizar el proceso y simularlo. Además, esta clase de modelo más detallado permite ejecutar directamente el modelo o bien importarlo a herramientas que puedan ejecutar ese proceso (con trabajo adicional).
BPMN cubre todas estas clases de modelos y soporta cada nivel de detalle. Como tal, BPMN es una notación basada en diagramas de flujo para definir procesos de negocio, desde los más simples (por ejemplo véase la Figura 2-1) hasta los más complejos y sofisticados para dar soporte a la ejecución de procesos.
Precio: $49.95 edición impresa en español
Comprar en Amazon.com



BPMN Guía de Referencia y Modelado: Comprendiendo y Utilizando BPMN
~~~~~~~~~~~~~~~~~~~~~~~~~~~~~~~~~~
Praise for BPMN Modeling and Reference Guide:


I think the BPMN Modeling and Reference Guide is by far one of the best/easiest introductions to BPMN or any other topics I have seen in awhile. Your book captures the very essence of what needs to be understood in a concise manner.
Everette Jones, E-Systems Architectures, Inc.



…Kudos to you guys, because you have created a much needed reference for our industry! Your book is well written, easy to read and present the BPMN concepts in an easy to understand way that is accessible to the laymen while allowing experts to better understand some on the sometime not so clear intentions that are in the spec.
Denis Gagne, Trisotech
From Amazon.com


Great Reference Guide October 29, 2008
This is a very readable book that is, as the title indicates, a reference guide. It is an easy, yet excellent, introduction to BPMN. Nevertheless, as a reference guide, be advised that it does not contain anything on methodology.

Good book, October 30, 2008
As being one of the BPMN gurus, Stephen White, wrote in fact, a good book about the theme. The book is objective, and has a good explanation level.
Personally, I recommend it, for the rookie or intermediary levels.

Easy to read and understand approach, October 2, 2008
This text reads like a novel. One example is used in Part I of the learning approach. It starts with a high-level diagram and proceeds with follow-up detail diagrams - to use a cliche - it's like peeling an onion. At each level, new concepts and associated symbols are introduced with page references to indepth discussions later in the text.
I really like this learning approach and found the text easy to read and understand. Highly recommended.



The authoritative guide to BPMN, March 3, 2009
By Steinar Carlsen

(Norway) - See all my reviews



I, and Computas in Norway, have been involved with BPMN since the early days in 2003 / 2004 leading to the release of BPMN 1.0 from BPMI. For years, there was no book about BPMN, except for the specification itself. Over the last year, BPMN books have started to appear - and among them is the authoritative guide to BPMN; "BPMN Modeling and Reference Guide" by Stephen A. White - who has been the editor of the standard over the years - and Derek Miers - one of the few European BPM Gurus.

The most amazing thing about this book is its (lack of) thickness - the authors have accomplished to write this authoritative guide in only 221 pages. The introductory part - "Understanding BPMN" is only 46 easily read pages; with lots of nice examples covering BPMN 1.1 modeling style using signal events etc.

If you are interested in a condensed BPMN overview for both business and IT people - this is the book for you.

If you are looking for the best BPMN book around - this is also the book for you.

If you are interested in reading several hundreds of pages about BPMN - I would start with this book, next complement it with the specification itself; available from OMG's website
What does that BPM acronym mean?




Simply type in any term and get the quick answer

Only $9.97 each
(retail $25.00).

Download immediately!
This new eBook series presents the collection of best and most important chapters on their respective topics recently published in the annual BPM and Workflow Handbook series and other publications.
Introduction to BPM and Workflow
Financial
Healthcare
Utilities and Telecommunications