Internet of Things
Process of Everything
BPM Everywhere
Background
In less than 5 years, the majority of customer interactions will no longer be person-to-person or even mobile-to-mobile, but through engagement via intelligent agents, and increasingly between the agents themselves.
Analytics will drive an ever-growing number of decisions, not as historic reports but rather through real-time support on mobile and wearable devices. Robots once hidden among warehouses and on the factory floor will become the fastest growing sector of the workforce, participating in a vast array of knowledge worker processes.
These advances are part of the data-driven transformation now well underway, resulting in a volume of data that is nearly incomprehensible.
Consider all data produced from the beginning of history to the year 2002 – that entire volume is now produced every 10 minutes. Yet within 5 years, the same volume will take less than a second. "Big Data" has never been so large, nor presented such a critical role to the business and the processes which drive it.
What do these changes mean for Business Process Management (BPM)? In the era of the Internet of Things where smart homes, cameras, appliances, cars, apparel, robots, drones, human communication tools (mobile, desktop) and more with every imaginable device connected, BPM must be everywhere.
With estimates of 30 billion or more connected devices, there will be far too many devices and interactions will be far too complex to keep pace with traditional software techniques.
The only way to make sense of the flow of information is to visualize them as part of processes that exchange and process the information byproduct forming something we call BPM Everywhere.
Launched jointly by the Workflow Management Coalition (WfMC) and Future Strategies, Inc., "BPM Everywhere" will be the most important BPM book of 2015, addressing the reality of digital business and what the impact of the Internet of Things is presenting for business processes and architectures, not in some distant scenario but today!
The book will discuss critical issues currently facing BPM adopters and practitioners, such as the key roles played by process mining uncovering engagement patterns and the need for process management platforms to coordinate interaction and control of smart devices.
BPM Everywhere
Full Table of Contents

Is Your Business Ready for BPM Everywhere?
Nathaniel Palmer, BPM.com and WfMC
I, For One, Welcome Our New Robot Overlords
Scott Francis, Lance Gibbs, BP3 Global, USA, David Brakoniecki, BP3 Global, UK
The Internet of Things Will Be Invisible
Peter Whibley, KANA, United Kingdom
Woots: Smart Things that Can Think, Act, Learn and Talk.
Surendra Reddy, CEO, Quantiply, USA
Cognitive BPM
Peter Fingar, USA
Digital Prescriptive Maintenance: Disrupting Manufacturing Value Streams through Internet of Things, Big Data, and Dynamic Case Management
Dr. Setrag Khoshafian and Carolyn Rostetter, Pegasystems Inc., USA
When Harry Met R2D2: Connecting Humans and Machines in the Flow of Work
Larry Hawes, Dow Brook Advisory Services, USA
Wearable Workflow, the Internet Of Things, and the Maker Movement
Charles Webster, MD, MSIE, MSIS
Process-Oriented Architecture for Digital Transformation
Vinay Mummigatti
Managing BPM Toward the Singularity
Roy Altman, Memorial Sloan Kettering Cancer Center, USA
Standards and Techniques for Data-Driven, Decision-Centric Process Innovation
James Taylor, Decision Management Solutions, USA
Value Streams Driving the Business Internet of Things
Joseph B. Lail and Gregory T. Taylor, Raytheon USA
Mining the Swarm
Keith D. Swenson, Sumeet Batra, Yasumasa Oshiro, Fujitsu America
BPM to Go: Supporting Business Processes in a Mobile and Sensing World
Rüdiger Pryss, Manfred Reichert, Alexander Bachmeier, Johann Albach, Ulm University, Germany
Unlocking the Power of the Internet of Things Through BPM
Stuart Chandler, Virtusa, USA
Creating the Information Foundation for iBPM
David RR Webber, Horizon Industries, USA
Advanced Complex Adaptive Organizational Systems BPM/Workflow Design
Mark Casey, Miyian.com, USA
Viewing the Internet of Events through a Process Lens
Wil van der Aalst, Eindhoven University of Technology, The Netherlands


Purchase Print and Digital Editions here: http://BPM-BOOKS.com
Remember to reserve your free advance chapter. Will be sent to you in about two weeks.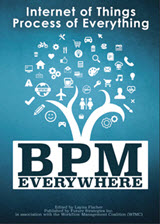 Reserve your Free Advance Chapter
What does that BPM acronym mean?




Simply type in any term and get the quick answer

Only $9.97 each
(retail $25.00).

Download immediately!
This new eBook series presents the collection of best and most important chapters on their respective topics recently published in the annual BPM and Workflow Handbook series and other publications.
Introduction to BPM and Workflow
Financial
Healthcare
Utilities and Telecommunications