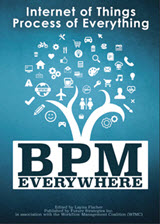 Internet of Things
Process of Everything
Use your Amazon account
Best BPMN Books Bundle
$69.95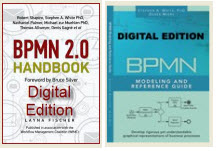 Two Best Sellers - One Special Price! Retail $114.95
Huge 39% Discount.
Pay only $69.95 for both BPMN books in one bundle. You Save $45.00.

BPMN Edición digital en español
Precio: $49.95
Comprar


Internet of Things
Process of Everything
BPM Everywhere
ISBN: 978-0986321412
Size: 7"x10"
Length: 242 pages
Ground-breaking, breath-taking new thinking!
We are entering an entirely new phase of BPM – the era of "BPM Everywhere" or BPME.
This book discusses critical issues currently facing BPM adopters and practitioners, such as the key roles played by process mining uncovering engagement patterns and the need for process management platforms to coordinate interaction and control of smart devices.
BPME represents the strategy for leveraging, not simply surviving but fully exploiting the wave of disruption facing every business over the next 5 years and beyond. Without question, one of the single most disruptive events in the last decade was the introduction of the smartphone. Consider for a moment how great of an impact this has had on the relationship between businesses and their customers. Not even the emergence of the Web and Internet-based "digital native" business models can compare with the level of intimacy now available with your customers.
People, Things and Processes that run in this connected world leave behind vast digital footprints of these processes, things, people, interactions, and daily rhythms of the society. As a result, the Internet is a powerful tool to persuade, connect and engage humans and things alike serving as the common fabric of interconnection among everything. In his chapter "Woots: Smart Things that Can Think, Act, Learn and Talk," Surendra Reddy introduces the concept called Web Of Open Things (Woots) that are everyday "Smart Things" with a specific identity, intelligence, address and presence on the Internet and capabilities to self-organize and communicate with other things with or without human intervention.
In the era of the Internet of Things where smart homes, appliances, cars, phones, virtually imaginable devices are all connected, BPM must, and will, be everywhere. As Peter Whibley discusses in "The Internet of Things Will Be Invisible," by 2025 there are expected to be more than 26 billion or more connected devices.
In the chapter "Digital Prescriptive Maintenance: Disrupting Manufacturing through IoT, Big Data, and Dynamic Case Management," Dr. Setrag Khoshafian and Rostetter discuss Prescriptive Maintenance that goes beyond the realm of descriptive, preventive, and predictive. With prescriptive maintenance devices, in collaboration with operators, are pro-active participants in their own maintenance. From monitors and remote sensors, to appliances and vehicles, to tens of billions of other "things," connected devices are generating meaningful and informative data that would easily overwhelm any human being, but collectively they present critical context about processes and the state of operations
"Big Data" has never been so large, nor presented such an acute role within enterprises and the processes that drive them. BPME as well as traditional BPM methods can already be found at the center of this. Its role will grow exponentially. Emergent factors such as process mining (see chapter "Mining the Swarm" by Keith Swenson, et al.) will be critical for uncovering engagement patterns and the need for process management platforms to coordinate interaction and control of smart devices. It is intelligent BPM that is expanding the window of what can be automated, by enabling adaptable automation.
The mobile strategies in far too many organizations seems to be the building of apps that presume that customers will use their smartphones like mini laptops. This avoids the fact that we now have a level of intimacy with our customer we've never had before. As discussed in the chapter "BPM to Go – Supporting Business Processes in a Mobile and Sensing World," our customers are carrying around a device that offers a range of capabilities unlike any laptop. A smartphone produces volumes of meaningful data about our customers (think about the "4Vs") and is able to interact with that customer in ways that a laptop never can.
The growing ubiquity of connectivity always within reach combined with new services and capabilities such as mobile banking is a key part of driving constantly-changing expectations. Yet digital disruption is not limited to mobile devices, and is in fact disrupting everywhere BPM is otherwise found, and why BPM everywhere is becoming the new normal.
Robots, sensors and other data-generating "things" require vertical integration to create managed, measured, and actionable feedback loops. This is a critical difference of BPME, a difference which risks being lost in its subtlety.
BPM, and specifically BPME, is necessary to bring these innovations into mainstream business operations. This type of "low code," model-driven approach is how the complex, data-driven systems of the "Internet of Everything" and IoT will continue to emerge.
Resolving the challenge of connecting the growing spectrum of intelligent things is what will drive the BPM investments and digital transformation initiatives of the next decade.
Is your enterprise ready for BPM Everywhere? Ready or not, here it comes!
Launched jointly by the Workflow Management Coalition (WfMC) and Future Strategies, Inc., "BPM Everywhere" will be the most important BPM book of 2015, addressing the reality of digital business and what the impact of the Internet of Things is presenting for business processes and architectures, not in some distant scenario but today!
BPM Everywhere
Overview of Chapters
Is Your Business Ready for BPM Everywhere?
Nathaniel Palmer, BPM.com and WfMC
The greatest impact on business process over the last five years has not come specifically from technology; or at least not technology alone. Instead, the one fundamental change that holds the greatest potential for business disruption, and similarly offers the greatest opportunity for innovation, is the dramatic shift in customer expectations. As we will discuss later in this chapter, the in-ability to adapt systems fast enough to keep pace with evolving customer ex-pectations is the single greatest challenge reported by companies we sur-veyed.
Resolving this challenge is what drives most IT investments and digital trans-formation initiatives today. Yet it is far from a stopgap measure. What we are seeing now is still the beginning of an inflexion point in the trajectory of change. This is the arrival of digital disruption, which recognizes no finite boundaries on what it will change. Everything today that we see, touch, buy, consume and require to live will all be affected in one capacity or another.
I, For One, Welcome Our New Robot Overlords
Scott Francis and Lance Gibbs, BP3 Global, USA, David Brakoniecki, BP3 Global, UK
While pursuing the nirvana of BPM Everywhere in the future of the Internet of Things, let's not forget the basics. Business is about people. Customer experiences are differentiating. Customers experience your product and your company through your business processes. Waste should be minimized, efficiency maximized, and goals aligned. How do we apply the concepts of Lean, Six Sigma, and BPM to a world full of a surplus of events, data, and agents? How do we separate signal from noise and produce fantastic process outcomes?
The Internet of Things Will Be Invisible
Peter Whibley, KANA, United Kingdom
"The most profound technologies are those that disappear. They weave themselves into the fabric of everyday life until they are indistinguishable from it." Mark Weiser
The IoT will act as an airbag for our lives, ready to step in when you need it, not constantly competing for your attention. By freeing us from the mundane activities that today we would have to do manually on the web we are being freed from the internet itself. IoT solutions will make us less dependent on our current web interfaces. We will use the screen and keyboard interface to the web less and less as voice and gesture become more a more appropriate method of interacting with IoT devices. BPM and workflow technologies will orchestrate automatic processes triggered by smart devices, freeing users from mundane processes, interrupting our daily lives only when a decision is required.
Woots: Smart Things that Can Think, Act, Learn and Talk.
Surendra Reddy, CEO, Quantiply, USA
We introduce a new concept called Web Of Open Things (Woots) that are everyday "Smart Things" with a specific identity, address and presence on the Internet and capabilities to self-organize and communicate with other things with or without human intervention. To make sense of the flow of information, activities, and rich interaction experience, Woots also embed a "tiny brain" to provide context awareness, autonomy, business process intelligence and reactivity. A semantic memory embedded into Woots stores a digital diary of an individual physical object in a persistent way and makes this information available to other devices, applications, and its environment. Woots would enable the creation of personalized software humanoids that will cater for our needs in private life, including shopping, smart home and public environments.
This paper discusses on the adoption of smart analytics and business process intelligence into Smart Things to realize the Web of Open Things (Woots), how to improve interoperability, reduce the overall architectural complexity, and facilitate the integration of processes, people, and things.
Cognitive BPM
Peter Fingar, USA
The era of cognitive systems is dawning and building on today's computer programming era. All machines, for now, require programming, and by definition programming does not allow for alternate scenarios that have not been programmed. To allow alternating outcomes would require going up a level, creating a self-learning Artificial Intelligence (AI). Via biomimicry and neuroscience, Cognitive Computing does this, taking computing concepts to a whole new level. Once-futuristic capabilities are becoming mainstream.
Organizations have a lot to learn about the impact of cognitive computing, so we we'll open with an Albert Einstein quote, "Once you stop learning, you start dying."
Digital Prescriptive Maintenance: Disrupting Manufacturing Value Streams through Internet of Things, Big Data, and Dynamic Case Management
Dr. Setrag Khoshafian and Carolyn Rostetter, Pegasystems Inc., USA
The holistic approach to maintenance is now augmented with Things that are increasingly intelligent and responsive. Connected devices and IoT are changing the dynamics of conventional TPM. Devices are now incorporating intelligent software that is becoming a key enabler for diagnostics and maintenance. Prescriptive maintenance goes beyond the realm of descriptive and predictive. With prescriptive maintenance the devices are pro-active participants in their own maintenance.
The paper highlights a number of use cases from key industries that are leveraging IoT (aka "Industrial Internet"). These include automotive OEMs, home appliances, healthcare devices and utility devices. The disruptive digitization approach to maintenance from descriptive, to predictive, to prescriptive with digitized decisions, cases, and IoT applies to any industry.
When Harry Met R2D2: Connecting Humans and Machines in the Flow of Work
Larry Hawes, Dow Brook Advisory Services, USA
Nearly every day in the technology press we are reminded that sensors, robots and software are taking jobs from low-skilled workers. However, the reality is that not all work can be automated and that machines will augment humans' capabilities as the Internet of Everything grows. As a result, how humans and machines will collaborate to get work done becomes a critical issue.
BPM and, especially, Case Management solutions are already beginning to connect humans and machines in the flow of work. Many current enterprise social technologies integrate event-related data generated by sensors and software systems, posting it as notifications in activity streams seen by relevant individuals. Increasingly, people can share that data, communicate and collaborate to gather additional information needed to make decisions and craft responses, and take action – all from within the activity stream.
This chapter provides current examples of humans and machines working together, and imagines some additional ways that the two might collaborate using social-enabled BPM and Case Management principles and technologies. The requirement for social interoperability standards is also discussed.
Wearable Workflow, the Internet Of Things, and the Maker Movement
Charles Webster, MD, MSIE, MSIS
Wearable technology and the Internet of Things have incredible potential for improving healthcare workflow. From the original calculator watch to today's smart glasses and smart clothing accessories, wearable technology seeks to weave (sometimes literally!) information and communication technology into everyday life and work, making it pervasive, intimate, and, metaphorically, friction free. Especially promising are applications in healthcare. These, for example, include patient monitors for the well and unwell and wearable user interfaces to health information systems. However, wearable tech will not succeed unless we get the workflow right. Getting the workflow right means understanding the relationship of wearable tech to the Internet of Things, driving workflow at the point-of-care, and analyzing and optimizing this workflow. Inexpensive Maker-style prototyping of 3D-printed wearable and Internet of Things gadgetry is a great way to explore Wearable Workflow. This presentation is based on the Dr. Webster's recent 2015 keynote at the Society for Health Systems, Institute of Industrial Engineering Healthcare Systems Process Improvement Conference.
Process Oriented Architecture for Digital Transformation
Vinay Mummigatti
Estimates from Cisco, Intel, GE and McKinsey consulting predict that more than 25-50 Billion ( predictions vary by each ) connected devices will exist by 2020 and the value creation through IOE can vary between $5-15trillion in the next decade.
The disruptions caused by this trend will impact the business processes and models offered by every large firm. Adding to this trend the demands of a connected customer makes it even more challenging as we need to provision goods and services in real time. It is a struggle for many firms to deal with the boundaries of Digital transformation that will decide their sheer existence in the next 3-5years. The social media user base has already crossed 1Billion and this is the market that is mainly consisting of Generation X – the digitally savvy, always connected, real time action oriented and driven by a sense of community.
As we navigate the digital paradigm and establish a seamless connection between social media, IOE and channels, we will come across major challenges as well as opportunities to grow and expand the business. The sheer size of the value that will be created through these disruptive trends can give birth to many new firms which will thrive on the emerging connected world.
Managing BPM Toward the Singularity
Roy Altman, Memorial Sloan Kettering Cancer Center, USA
The Singularity describes when ordinary computers exceed the capacity of the human brain. Moores Law, which states that computing power increases at an exponential rate, has held constant since the dawn of the computer age. If one extrapolates forward, experts agree that the Singularity will be reached within 15-30 years. We are entering the age leading up to the Age of Intelligent Machines. Big Data Analytics and Artificial Intelligence are already having a profound impact on business and society. As the lines blur between our work and private time, and our physical and digital lives, BPM will become pervasive by providing a framework for managing interactions including both predetermined and uncertain processes. Once The Singularity is reached and exceeded, there will be profound impacts on society. We need to plan for the implications of the redefined role of humans, and management of a robotic workforce. We currently manage to the technology we have today or in the near future. We need to manage BPM along the technology curve toward The Singularity, with an eye toward the powerful technologies that are just around the corner
Standards and Techniques for Data-Driven, Decision-Centric Process Innovation
James Taylor, Decision Management Solutions, USA
In an era of Big Data, organizations are applying analytics so they can become data-driven. Cookie cutter treatment of customers is being replaced with personalized, targeted communication and offers. Pay and chase fraud recovery is giving way to the prevention of fraud before it gets into the system. And post-transaction risk monitoring is being replaced with dynamic, transaction by transaction risk-based pricing and management. New data sources, better management of corporate data and the growing power of analytics are combining to create a new generation of data-centric decision-making.
Process-centric organizations need to adopt new standards and techniques so they can use data-driven decision-making to radically innovate their business processes. Proven techniques allow organizations to discover the decisions in their processes. Adopting the new Decision Model and Notation standard lets them clearly model this decision making, simplifying their process models and identifying clear and compelling analytic opportunities. Focusing on decisions and processes as peers creates innovative decision-centric processes with higher rates of straight through processing, more customer-centricity and improved operational effectiveness.
This paper introduces operational decisions, discusses how to find them in a business process and shows how they can be modeled effectively in the new Decision Model and Notation (DMN) standard. How to use these models to frame analytic requirements is covered as is the opportunity for process innovation created by changing the role of decisions in business processes.
Value Streams Driving the Business Internet of Things
Joseph B. Lail and Gregory T. Taylor, Raytheon USA
The direction towards global markets and operations places stress on many business processes that originated in the days of primarily domestic business and occasional international operations. The potential of a broader set of customers across more regions carries a set of complications where in-country policies, acquisition rules, leadership expectations and differing infrastructure challenge carrying a domestic business model into the global scene. The Raytheon Company is stepping back to look at new value streams, or models across marketing, engineering, suppliers, manufacturing and information systems, which lead to improved business outcomes and improved affordability in the more complex global market. We will demonstrate how the key shifts in business capabilities tied to this value stream will enable new business processes, then how that use case drives new technology and more efficient business operations. This specific case leads to the Internet of Things (IoT), but in a context relevant to our defense business with specific policies and mission needs that we have labeled the "Business IoT". The Business IoT combined with advanced analytics brings powerful new agility and business efficiency driven throughout by rigorous application to the new business process and direct relation to the future value stream.
Mining the Swarm
Keith D. Swenson, Sumeet Batra, Yasumasa Oshiro, Fujitsu America
Data mining and process mining are both tools used by the BPM professional in order find out how an organization is currently operating and to get an objective measure of how efficiently the organizaiton is operating. Big data is a style of data analysis that reflects a return to large, centralized data repositories. Processing power and memory is getting cheaper, while the bandwidth between all the smart devices remains a barrier to getting all the data together in one place for analysis. If we look at common technological trends, we might predict that more and more processing power will remain at the device level. In a way similar to how Google distributed web search queries across a grid of computers, it is reasonable to see analytics functions distributed to the devices that form the Internet of things. Swarms of devices will be mined in order to retrieve intelligence about what those devices have been involved in. There are potentially very disturbing aspects of this: who owns this data when it is distributed over millions of devices? How can one protect privacy? Whether centralized or distributed, how can one assure the quality of the data? On the flip side, devices that mine information from other devices might be able to provide better service, and a better quality life than without. Like all technology advancements we should not let fear rule our actions, yet we should move forward with our eyes open.
BPM to Go: Supporting Business Processes in a Mobile and Sensing World
Rüdiger Pryss, Manfred Reichert, Alexander Bachmeier, Johann Albach, Ulm University, Germany
The growing maturity of smart mobile devices has fostered their prevalence in various business areas. As a consequence, BPM technologies need to be enhanced with sophisticated and configurable mobile task support. Along characteristic use cases from different application domains (e.g., healthcare, logistics), this chapter will give insights into the challenges, concepts and technologies relevant for integrating mobile task support with business processes. Amongst others we will show how mobile task support can be enhanced with location-based data, sensor integration, and task configuration support. The latter is based on a 3 D model for configuring mobile tasks on smart mobile devices.
Unlocking the Power of the Internet of Things Through BPM
Stuart Chandler, Virtusa, USA
Business Process Management (BPM) enables businesses to harness the power and speed of the Internet of Things (IoT). Capitalizing on data enriches customer relationships by converting data into information so the organization can interact intelligently. The data explosion sets up businesses for understanding behavior and needs. However, only with the right platform, can real-time data be effectively used for intelligent decision making. BPM makes this possible by enabling orchestration, and improving process efficiencies which would lead to higher revenues and increased margins. While many businesses are already employing BPM, true success requires not only a foundational BPM platform but also orchestrating various processes across the customer value chain, integrating with other key application/data platforms, and making processes transportable across platforms. It's also critical to develop industry standards for exchanging BPM processes and procedures to allow value chain partners to interact closely—where the value chain disappears as customers experience seamless relationships across many providers. This article also presents legal sector and travel industry case studies highlighting how two businesses went through a paradigm culture shift. BPM helped them raise the way they service customers and interact with partners to a whole new level.
Creating the Information Foundation for iBPM
David RR Webber, Horizon Industries, USA
When creating predictable information assets solution architects face a bewildering array of competing approaches and theoretical philosophies. What choices make the most sense in the context of iBPM, and what are their pros and cons? How can we handle multilingual needs in a pluralistic distributed workforce? Big strides are being made in the ability to semantically package knowledge and information that can be processed logically and predictably. Tools that integrate into BPM solutions can provide a smooth and rapidly deployable information infrastructure. Existing open source and open standard software assets are considered along with complementary industry products. Use cases and examples are examined with respect to a selection of major industry challenges and needs including healthcare and multinational government collaboration. Particularly in regard to mobile device deployment and enabling collaborative team environments both domestically and internationally.
Advanced Complex Adaptive Organizational Systems BPM/Workflow Design
Mark Casey, Miyian.com, USA
A new theoretical model and software design based on recent CAOS (complex adaptive organization systems) science research has been developed, integrating business management, workflow optimization, and operational and scientific systems. With federated big data and supercomputer support, self-organizing dynamic software dynamically rebuilds and optimizes itself in real and near real time to integrate and optimize the hundreds of current simultaneous BPM, Workflow, Learning, and engineering/technology CAS systems that make up an organizational system. The new model and software design integrates existing software, informational, and process frameworks to encompass all the changing states within an organization. Longitudinal, temporal, and hierarchical process and workflow layers are auto-dynamically defined and modeled to produce optimal outcome and states using coordinated goal seeking strategies. Embedded 2D and 3D virtual reality interfaces based on natural human audio, video, and data interface patterns are ubiquitous throughout the design. Healthcare is one of the first target industries.
Viewing the Internet of Events through a Process Lens
Wil van der Aalst, Eindhoven University of Technology, The Netherlands
The spectacular growth of event data is rapidly changing the Business Process Management (BPM) discipline. It makes no sense to focus on process modeling (including model-based analysis and model-based process automation) without considering the torrents of factual data in and between today's organizations. Hence, there is a need to connect BPM technology to the "internet of events" and make it more evidence-based BPM. However, the volume (size of data), velocity (speed of change), variety (multiple heterogeneous data sources), and veracity (uncertainty) of event data complicate matters.
Mainstream analytics approaches are unable to turn data into insights, once things get more involved. Therefore, they tend to focus on isolated decision problems rather than providing a more holistic view on the behavior of actors within and outside the organization. Fortunately, recent developments in process mining make it possible to use process models as the "lens" to look at (low) level event data. Viewing the internet of events through a "process lens" helps to understand and solve compliance and performance related problems. In fact, we envision a new profession—the process scientist—connecting traditional model-driven BPM with data-centric approaches (data mining, statistics, and business intelligence). Process mining provides the process scientist with a powerful set of tools and prepares BPM for a highly-connected world where processes are surrounded by devices emitting events.

Purchase Print and Digital Editions here: http://BPM-BOOKS.com
Remember to get your free chapter, delivered immediately as PDF Download
What does that BPM acronym mean?




Simply type in any term and get the quick answer

Only $9.97 each
(retail $25.00).

Download immediately!
This new eBook series presents the collection of best and most important chapters on their respective topics recently published in the annual BPM and Workflow Handbook series and other publications.
Introduction to BPM and Workflow
Financial
Healthcare
Utilities and Telecommunications





Business Transformation Series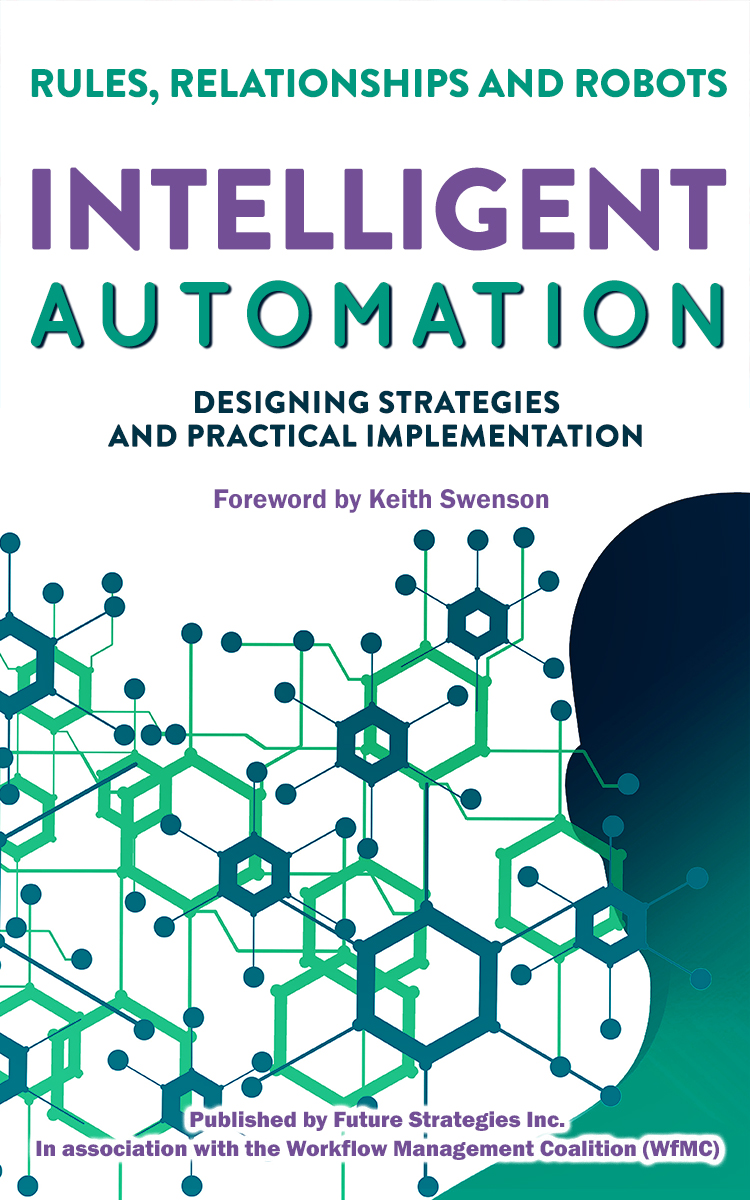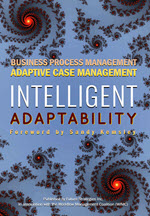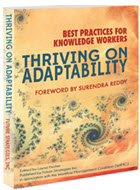 ~ Business and Dynamic Change
~ BPM Everywhere
~ Thriving on Adaptability
~ Empowering Knowledge Workers
~ iBPMS - Intelligent BPM Systems
~ Human Centric BPM
~ Social BPM
~ Taming the Unpredictable
~ BPMN 2.0 Handbook 2nd Edition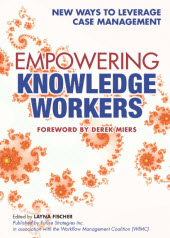 Retail $49.95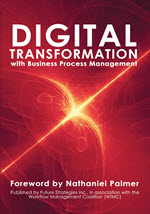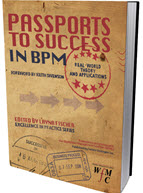 * Thriving on Adaptability
* Passports to Success in BPM
* Moving the Goalposts
* Using BPM for Competitive Advantage
* Innovation, Implementation and Impact
* Successful Process Implementation
* Delivering BPM Excellence
* Taming the Unpredictable
* Customer-Centric Organization
* How Knowledge Workers Get Things Done
* Delivering Competitive Advantage
* Understanding and Using BPM
____________________
Could your case study be an Award-winner?
Get recognition for your visions and your team's achievments.


WfMC Awards for Excellence in BPM and Workflow

WfMC Awards for Excellence in Case Management